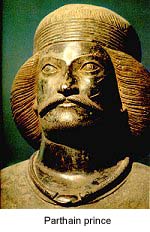 The Parthian Empire is a fascinating period of Persian history closely connected to Greece and Rome. Ruling from 247 BC to AD 228 in ancient Persia (Iran), the Parthians defeated Alexander the Great's successors, the Seleucids, conquered most of the Middle East and Southwest Asia, and built Parthia into an Eastern superpower. The Parthian empire revived the greatness of the Achaemenid empire and counter balanced Rome's hegemony in the West. Parthia at one time occupied areas now in Iran, Iraq, Turkey, Armenia, Azerbaidzhan, Turkmenistan, Afghanistan, Pakistan, Syria, Lebanon, Jordan, and Israel ......
In 247 BC Arsaces, leader of a Scythians group in Central Asia called the Parni (a branch of the Dahae) is crowned king. He overthrows the Seleucid governor of Parthia in 238 BC and establishes a new nation that lasts for almost 500 years. 95 - 57 BC is referred to as the Parthian 'Dark Age'. Civil wars make the chronology of this period a matter of conjecture. At the height of their power the Parthians were second only to Rome and were the only civilized nation able to stand up to her. The empire began to decline in the 2nd century AD and the rebellion of Ardashir of Persis in 220 AD was its death knell. The last Parthian king, Ardavān (Artabanos) IV, was killed in the battle of Hormuzdagan in 224 AD and Ardashir became the first Sasanian king ......
Important events
Prophet Jesus
Beginning of christian year
Wars with Roman
Parthians defeat Romans at Carrhae (Harran), northern Syria. 53 B.C.